What is an

- ELECTRONIC TRAVEL AUTHORITY (ETA)?

Electronic

Travel Authority

The Australia Visa Malaysia is available online 24 hours a day seven days a week, for applicants outside Australia who want to visit Australia for tourism or business purposes.

An ETA allows the holder to travel to Australia as many times as required within the validity period which is 12 months from the date of issue. The maximum length of each visit is three months.

An ETA Visa is an electronically stored authority equivalent to a visa. There is no stamp or label placed in your passport. ETA information is accessible by airlines, travel agents and Australian border agencies. An ETA is linked to the passport number that is used in an ETA application and the holder must use the same passport to travel to Australia.

Electronic Travel Authority (subclass 601, subclass 651) are available to passport holders from Malaysia and a number of countries and regions.

https://www.australianvisa.com.my is cost effective Australia visa processing center in Malaysia.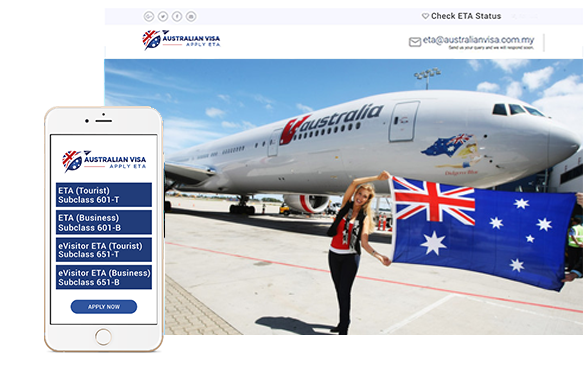 Australia

- Tourist & Business Visa Eligible Countries
Subclass 601 -

Eligible Countries







Subclass 651 -

Eligible Countries